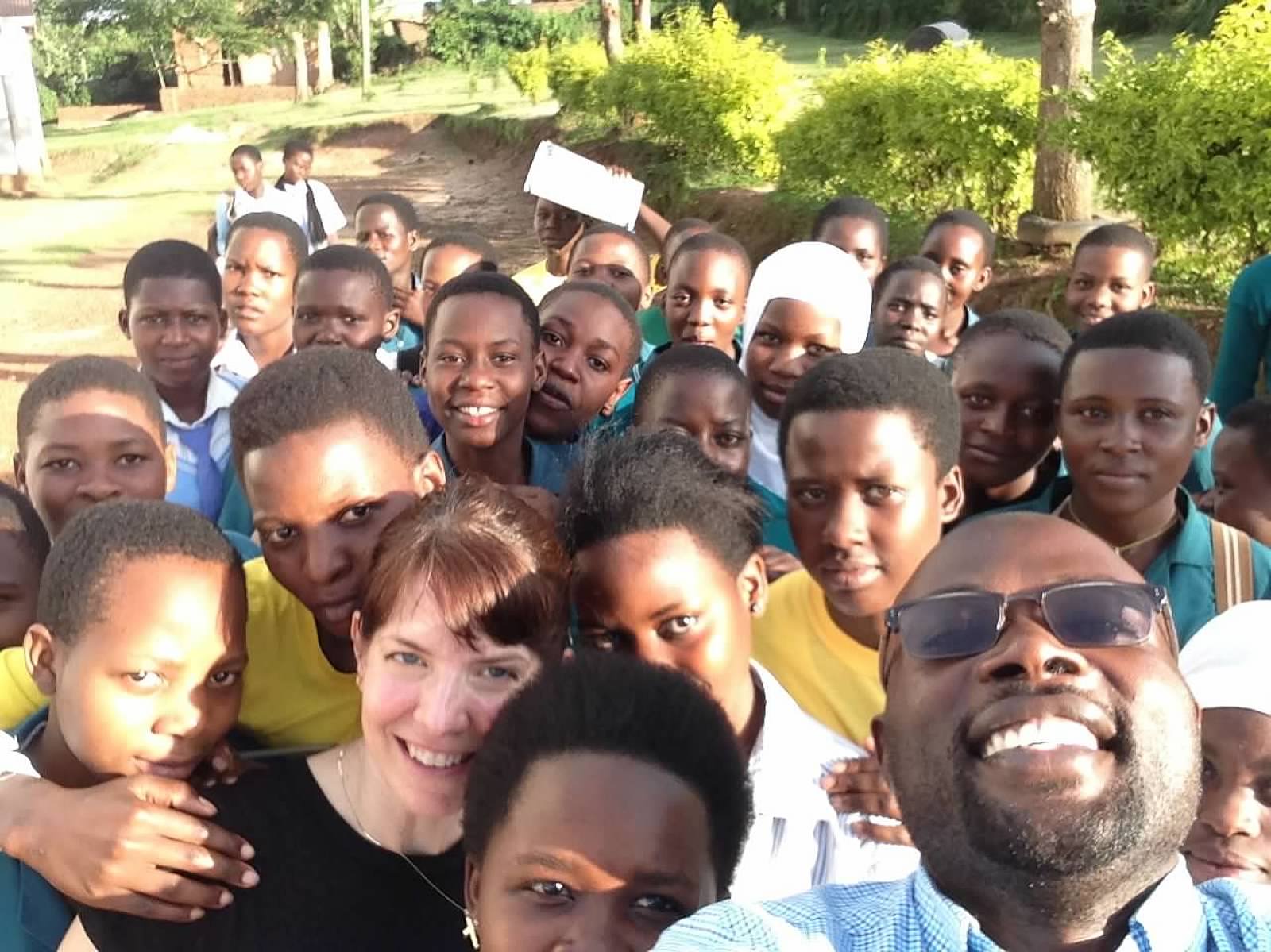 This blog is the story of real people: high school kids in developing countries like the ones at our pilot school, Bujuuko High School, in Bujuuko, Uganda. Thanks for stopping by.
At Bujuuko Foundation, our mission is to foster tomorrow's developing-country entrepreneurs by sponsoring student projects to improve their own high schools. We're helping the students create a better education for themselves and their classmates and gain skills they can use after they graduate, even if they don't go on to college.
Bujuuko is a small community outside the Ugandan capital city of Kampala. Most people in Bujuuko work very hard for very little money. Many families have trouble earning enough to pay school fees for their kids, roughly equivalent to $45 per trimester.
Most Bujuuko High School students walk to school, some walking as many as two hours each way. Some students live too far away to walk and so they stay in dorms at Bujuuko. In 2017, Bujuuko High School has more than 200 students, many of whom would not be able to go to school at all without it.
In the coming weeks, we will introduce you to some of the special kids studying at Bujuuko High School, as well as their teachers, administrators, parents, volunteers, and others who support their ambition of receiving a quality education. You'll meet many of us, learn how we came to be involved, and what we hope to gain from doing this work.
You'll also see what our day-to-day challenges and achievements look like, and we will invite you to help make the goals of entrepreneurship training and quality education a reality.
Bujuuko Foundation's Founders Are People Like You
This is the story of people like you who want to make a difference. It's the story of Dr. Job Kasule, a Ugandan native and WVU Ph.D., who used to hide from school administrators that tried to send him home when his family fell behind on school fees.
It's the story of Dr. Sadhat Walusimbi, who wouldn't have been allowed to sit for his college entrance exams at all but for a registrar accounting error. And of Amanda Walusimbi, who met her husband while working at Ohio State and moved to Uganda to raise two little boys in her husband's homeland.
And of me, Alison Peck, a law professor at West Virginia University specializing in the study and practice of sustainable development. I learned about Bujuuko from my friend and colleague, Job, and we decided to work together to support the work of Bujuuko High School, and other struggling but aspirational schools like it, by forming Bujuuko Foundation. With a better-equipped school, more students will be competitive for college scholarships, and all will have important business skills that will help them and their communities when they graduate.
Bujuuko Foundation Means Asset-Based Development
Our blog posts will show you how we are implementing asset-based development at our partner high schools. Asset-based development means encouraging students to identify their own gifts and create projects that will improve their schools as well as their own skills.
For those who are interested in knowing more, I will tell you about the history and concept of asset-based development, as well as other types of development efforts going on in the past, present, and, hopefully, future. We'll look at interesting projects around the world, data that tests what really helps to alleviate poverty, and the people in developed and developing communities who are working to make development more than just a buzz word.
This Is Also Your Story
Maybe you are a college student who yearns to connect with people from cultures very different from your own. Maybe you are active in your church or mosque or temple and feel called to work for people who are poor. Maybe you are an educator and dream of teaching – and learning – in a less-developed country. Or maybe you just want to know more.
You are part of Bujuuko Foundation too.
Through our website, we'll invite you to get involved however you can – as a project sponsor, idea contributor, or study abroad student. We plan to host global education and teaching opportunities for undergraduates, grad students, and faculty. We'll keep you updated on how to get involved and any special expertise our partner students are seeking as those opportunities arise in 2017 and beyond.
On this blog, we'll show the pictures and tell the stories of how our partner students and you, working together, are improving education for everyone.
We also hope to get to know you, and you us. Our partner students will tell you what skills and talents they are applying to improve their school. Their teachers will tell you about their greatest victories and greatest challenges in the classroom. Job and Sadhat will tell you how it feels to grow up poor, to succeed against the odds, and to lend a hand to those coming along behind. Mandy will tell you what it's like to be an American raising two young boys in Uganda while growing as a professional and supporting development. And I'll explore questions like what "sustainable development" means, how we can help the most, and how this work changes us.
We hope that you will join us on this journey. Please introduce yourself and send your ideas. Sign our guest book to receive updates on teaching, study abroad, and volunteer opportunities. Become a project sponsor to help a student use his or her talents to improve Bujuuko High School and our future partner high schools. Let us know of any skills, resources, or opportunities you would like to contribute.
We look forward to working with you!