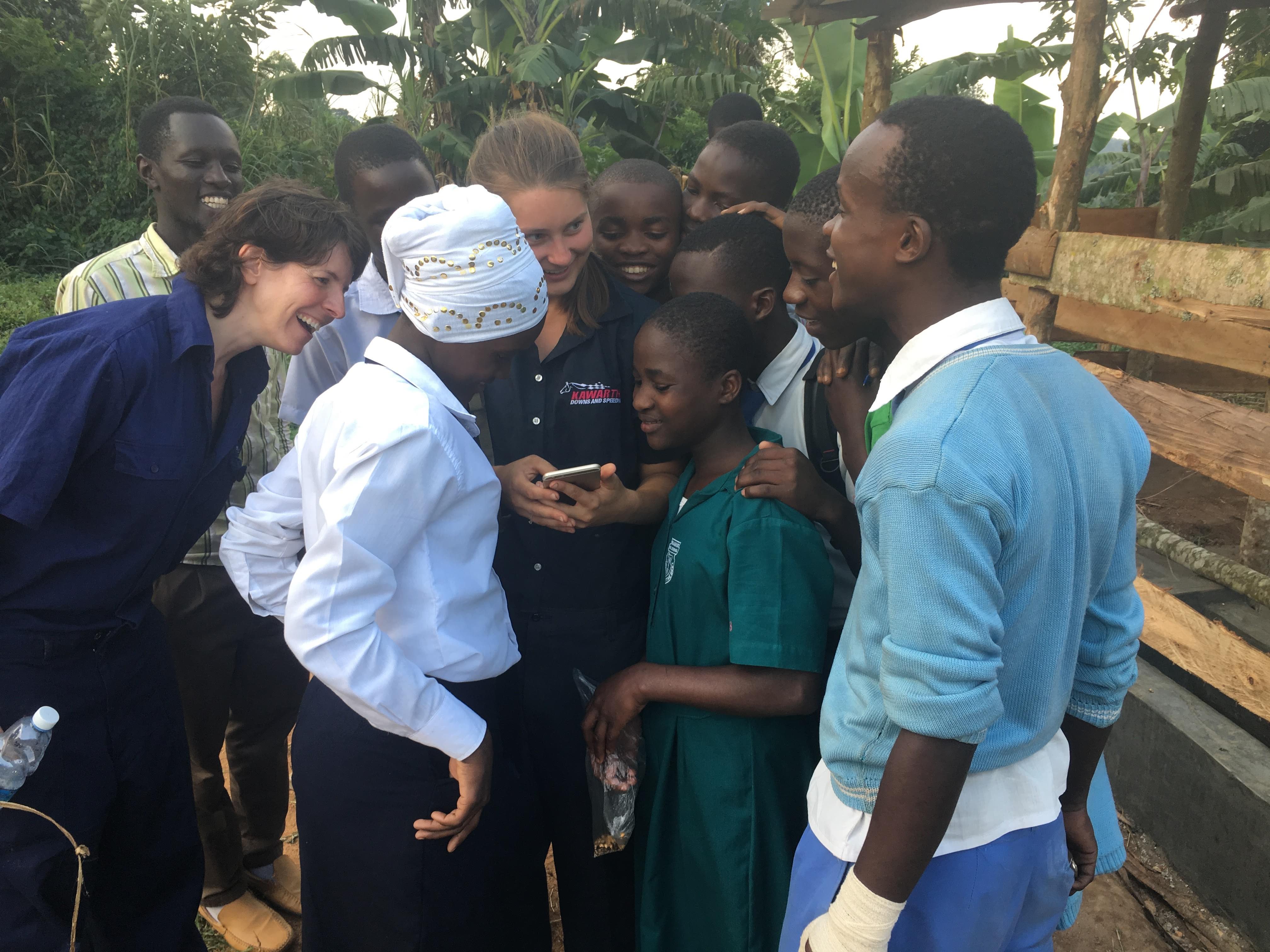 It's our last day at Bujuuko High School for our 2017 study abroad. Sarah and Sadhat will have to leave for the airport by noon, so Mr. Lubega, the headmaster, is moving the farewell party to a little earlier than the lunch period. There's no more painting to be done in the computer lab, so we walk around the school grounds as the sun starts to burn off the morning chill.
Kids come outside as their morning classes end. The Senior 2 and Senior 3 kids seem to be out first – you can tell their class years by their green-and-white uniforms. Savannah, still wearing the navy coveralls she's worn for work all week, gathers a group of kids on the step outside the library and begins teaching them the chorus to "Country Roads." They start tentatively at first but soon gain confidence, with Savannah's urging and encouragement. Savannah was the WVU Mountaineer last year, which means she's a pro at talking to groups of kids and getting crowds fired up.
Several of the girls gather around me as we sit on the step. They want to know if everything in the U.S. is as wonderful as it seems on TV. I love my home, but I wish I could somehow relieve them of the disempowering idea that another country is Never Never Land and their own country is no-man's land. "They mostly show the nicest places on TV," I tell them. I ask them to think of the nicest neighborhoods and schools in Kampala. "Imagine that Americans saw a Ugandan TV show set in Kololo. Americans would think, 'Oh, Ugandans live very well!'" They laugh and nod.
As more students roll out of the classrooms and into the courtyard, we begin to hear a thumping bass coming from the main hall. We're all drawn to the music. The DJs are setting up a giant PA system. "This is what they like," Mr. Lubega tells me. "On the last day, I just want everyone to have fun."
All the kids are out of class now, and the hall starts to fill up with bodies and the sounds of music and excited chatter. Shane, Sarah, Charles, Savannah, and I are given seats of honor in the front, and we see all the kids mingling, talking, laughing. "We are here to say farewell to our guests from West Virginia," Mr. Lubega announces. "First we will have some entertainment, and we will ask our guests to say a few words. Then we will dedicate the heifer pen and the computer lab that they have helped us build these past two weeks. And we have prepared a very nice lunch for you today."
The entertainment begins, as the kids take turns leading the crowd in lip synching their favorite songs and wowing each other with their slick dance moves. A dance troupe of five kids, changed out of their school uniforms into hip hop street gear, gets the crowd going. Then Trevor (billed by his teacher as "the Justin Bieber of Uganda") and his brilliant beat box DJ, Emma, perform an original song dedicated to us and featuring all of our names – "Alison Shane Sarah Charles Savan-NAH," Trevor raps smoothly, and who could resist such a serenade? By the end, the West Virginians are all out on the floor dancing with them.
As the DJs keep spinning tunes that vibrate in our bones, the teachers pull each of us visitors up and hand us the microphone. Teacher Henry hands the mic to Shane as we hear the first notes of Wiz Khalifa's "See You Again." Shane, the consummate showman and natural youth leader, walks through the crowd, getting everyone on their feet, on the tables, singing at the top of their lungs:
It's been a long day without you my friend
And I'll tell you all about it when I see you again
We've come a long way from where we began
Oh I'll tell you all about it when I see you again
If the entertainment had gone on forever my face might have cracked from smiling, but there was a strain underneath it. Was this real, what I was seeing and feeling? Where did such a feeling come from? How did we go in two weeks from smiles and handshakes and good intentions and open minds to this, this something I couldn't put my finger on, couldn't characterize, certainly couldn't have created on a Skype call from my kitchen in Morgantown with Job and Sadhat and Mandy? This was our last day. I'd already seen a few tears, both theirs and ours. Does this live on?
Mr. Lubega says it's time for the dedications, so we go outside to the new cow pen, where the fine, lonely heifer is the only creature not celebrating. Agriculture teacher Doreen dedicates the project and expresses gratitude for our blessings and for the prospect of learning new agricultural skills and adding valuable milk to school lunches. A smaller group, led by the students who planned the computer lab project, crowds into the newly-refinished computer room and dedicates the room and the first six laptops and tablets that Bujuuko Foundation has donated. I silently hope that we will be able to establish the wifi connection very soon, so that the West Virginia students and the Bujuuko students who have now become friends can communicate more easily. We move to the library and dedicate the two small stacks of books we've brought to donate, mostly books that we ourselves loved in high school, as well as a few science textbooks for reference.
After the dedications it's time for lunch, and this lunch says the party is on. Instead of the usual posho and beans, we've collaborated to produce a feast of goat stew, rice, matooke, cassava, and guacamole (made by Shane and a team of helpers, since he had been raving about the Ugandan avocados and telling the kids about the Mexican dip). There were bottles of soda for everyone – Coke and Sprite as well as Stoney Tangawizi (a spicy ginger ale), orange and purple Mirinda Fruity (like Fanta and Dr. Pepper only better), and Novida (Charles' favorite, a pineapple soda that you have to taste to believe).
We're fueled up and revved up now, and the DJs pump up the jam. The kids are out on the floor dancing wildly, and I don't know if I'm pulled out of my chair or get up on my own but soon we're all stepping, spinning, swaying, gyrating, and laughing for I have no idea how long. The hall starts to get sweaty and hot from all that joy and motion. I break away and step outside into the late afternoon sunshine and fresh air.
It's almost time for us to go, and I look around to begin gathering our group. As I walk to where I can see around the edge of the building, I realize the boys have started a soccer game out on the pitch.
There's Shane, a foot taller and several shades lighter than the twenty boys around him, trotting over to receive a pass. A former varsity player for Wheeling Jesuit University, Shane has been saying since we left Morgantown that he wanted to get in on a game.
The afternoon is perfect, the sun gentle, the breeze easy. There's no way I'm breaking up this game right now, schedules and itineraries aside. I spend the next twenty minutes on the sidelines, watching – proud, humbled, quieted. There's only one word I can think of: grace.
Savannah, a soccer player herself, stands beside me. "They're better than any team I've ever played on," she says. "A lot better."
Eventually we must go – we're heading across town to see a show of traditional dance, music and culture, and taking a few of the kids and teachers with us. There are hugs, smiles, cheers, and a few more tears.
How can we not talk about family when family's all that we got? Job and Sadhat and Mandy and I started this because we wanted to create opportunities for kids, as opportunities had been created for us. We wanted to put the theory of sustainable development into practice and we found ourselves in a sea of models and methods, audits and indictors. Running a nonprofit means pitching to donors and filing financials, reviewing insurance riders and approving meeting minutes.
Today, I realize that sustainable development is not any of those things. It's not how many dollars you raise or even how many test scores you raise. Those things are proxies, necessary but potentially dangerous.
The only thing in the world that truly develops is the human heart, and the only thing in the world that's truly sustainable is love. Until love is your business, you cannot succeed. And once love is your business, you cannot fail.
Love always goes by a name – Faith, Swabi, Vanessa, Lillian, Swaiba, Trevor, Emma, Ritah, Ibrahim, Joseph, Gracious, Peter – it's a shame to name so few when there are so many. Not to mention Savannah, Charles, Shane, Sarah, who went way outside their comfort zones to connect with strangers a long way from home.
Love is not scalable and replicable. Love is not measurable or reportable. Love is one on one, listening and understanding, trying and failing and trying again.
Loving someone is not always ribbons and rainbows. It not only can but surely will break your heart. But loving someone also creates the possibility of something greater than the sum of its parts, a new hope, a new world.