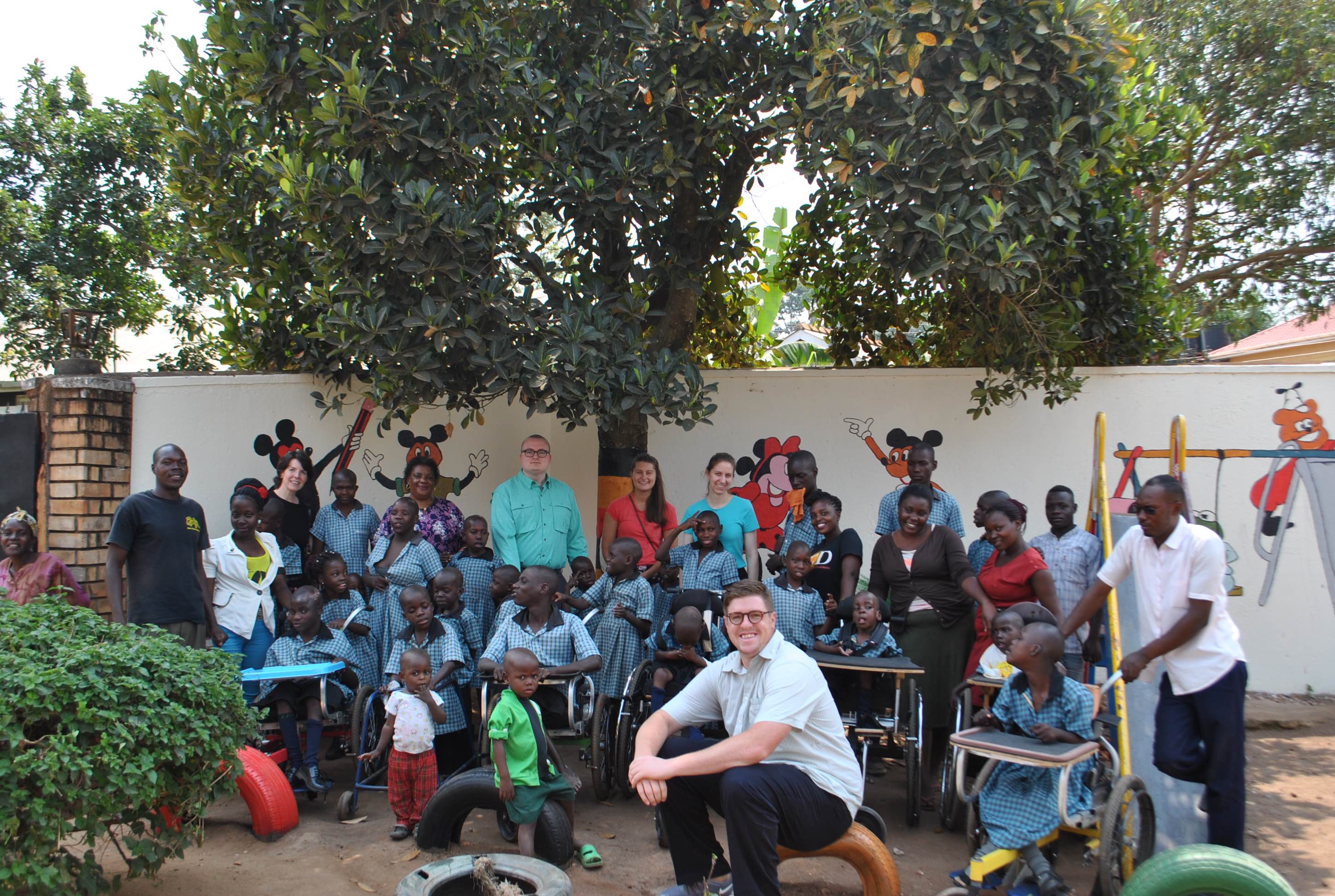 At Noah's Ark Training Center with Victoria (back row, in purple)
Every human story is a version of The Hero's Journey. That formula provides the cycle of all human dramas. It was described and documented by Joseph Campbell in The Hero with a Thousand Faces, and popularized by George Lucas in Star Wars.

The Hero's Journey follows a reliable cycle. Initially, the hero lives in her ordinary world. At some point, she receives a call to adventure, which at first he refuses. Then she meets a mentor, someone whose influence pushes her. She accepts the challenge and crosses the threshold into a new life. At this stage, she faces tests as she encounters both allies and enemies (sometimes having to sort one from the other). With her newfound allies, she prepares for her biggest challenge, and eventually undergoes an ordeal. Coming through it, she claims her reward. At this point, though the journey back must begin. She will be tested and purified once more on the threshold before she finally reaches home with the prize that has the power to transform the world as it has transformed her.
Bright Kids Uganda
This Wednesday, Sadhat, Mandy, and I met a woman named Victoria Nalongo Namusisi, founder of a nonprofit called Bright Kids. All morning, we rode and walked with Victoria around the property where she takes care of (at last count) 108 children who survived the streets of the Katwe slum or the war in northern Uganda and the warlord Joseph Kony.
Seventeen years since she quit her job in the office of the President of Uganda and began taking in street children, Victoria's operation has grown to include seventeen employees, a preschool, an infirmary, two dormitories, a large farm for feeding the kids, a grocery store, and microloans and marketing connections for small female-owned businesses. One of her first kids now runs a primary school for other street kids, and her daughter runs a home for disabled children and victims of battery acid attacks, a terribly common crime in Uganda.
In recent years, Victoria started taking in children from internally displaced peoples camps from the war in the North, and now she focuses much of her energy there. She takes trips to the North where she stays with dozens of displaced or abandoned children. They wait every night to see which children return and take their blankets down off the wall. Occasionally there is one who doesn't return. "On these nights, we don't sing," she said.
I don't know how much Victoria knew about us before we arrived, probably not much. I'd heard of her months before through a colleague, but was only connected with her recently when I met a professor at University of Pittsburgh, Dr. Lou Picard, who was her primary donor for many years. Lou and his wife, Pauline Greenlick, met me for dinner in Pittsburgh before my trip, patiently waiting while I fought traffic for an hour and sharing everything they had learned over many years of working with and supporting Victoria. Pauline's email connecting me with Victoria was simple, merely stating that I was a professor working with a secondary school in Uganda.
Despite this limited introduction, Victoria spent a few hours with us. She generously showed us her whole operation and described how she got there. She told us how she originally didn't have an accountant, but kept meticulous records "in my unprofessional way," just keeping every receipt, with binders for each project. I told her we needed to work on accounting, and she said, "The best way to do that is to interview someone together with your partners. Ask who they prefer, but make sure you are making the decision together."
Other than for preschool, Victoria sends her kids to other places for school and pays their school fees. The older ones go to boarding school. The day we visited, she had over one hundred kids, but only about twenty-eight were currently staying there. They go to many different schools. "I try not to put too many of my kids in the same school," Victoria said with a gentle laugh, "because I don't want to cause too much chaos anywhere."
We went over to the preschool and met the little ones, including one mentally challenged boy who was so thrilled to see us he couldn't stop smiling. He jumped out of his chair and came over the door to hug us as we arrived. He pointed to everything and everyone in the room, asking me to tell him the English word.
She frequently has graduate student interns from Pitt, and their projects are shaped based on their particular areas of study. She showed us the living quarters she'd built for them. All of them had solar-powered lights "because the interns are afraid when the electricity goes out." She said she has learned that it's essential to meet with them one-on-one, exactly once a week starting the day they arrive. She told us about one young woman who came with a few other students, but "didn't seem to be fitting in" with the group. When the others went out, she stayed behind. Victoria asked her if something was wrong. The girl confessed that she had very little money and couldn't afford to go out with the others. Victoria cut the cost of her room and board in half.
She has done all of this on astonishingly little money. When she showed us the office and introduced us to the accountant, she proudly told us that this was their best year ever – "about 41 million shillings." The accountant confirmed. Forty-one million Ugandans shillings is less than $12,000.
She said there are things she still wants to improve. She wants the children's living quarters to be better. She wants them to have a better diet. Although their farm produces a variety of staples of the Ugandan diet – cassava, matoke, sweet potatoes, Irish potatoes – and has avocado trees, jackfruit trees, hogs, and cows, Victoria said she wants her kids to eat better. "I want them to be able to have fruit every day," she said. "Right now it's only seasonal." It's too much to ask the staff to fry chapatti for everyone, but the older kids make it for everyone on Sundays. Victoria's eminently practical demeanor shifted noticeably when she talked about these challenges she still wants to overcome. Her usually direct gaze drifted off momentarily inward, looking at nothing except a future she can't quite make out yet.
Before we left, she brought in a gift - a brightly colored, padded tote, perfect for a laptop or files, that even had my name printed on the front pocket. I was so touched that this woman, whose job is to think of the needs of the most vulnerable people on the planet, took a moment to think of me.
Meeting The Mentor
The morning after our visit, I lay in bed thinking about Victoria. I thanked God for bringing me this far –beginning serious work at Bujuuko with my new colleagues and friends – and I prayed the devotional that Mother Teresa had written for the day of our visit, February 22. Mother said,
I do not think I have any special qualities. I don't claim anything for the work. It is His work. I am like a little pencil in His hand, that is all. He does the thinking. He does the writing. The pencil has nothing to do with it. The pencil has only to be allowed to be used.
God has used Victoria to do astonishing work. Whatever shortcomings she or her operation may have – and all human beings have them – God has nonetheless worked through her to save hundreds of children over the past seventeen years from almost certain death. Some of them have now finished college.
As I lay there reflecting on our visit, I realized that Victoria is our Obi-Wan. At some point early in the hero's journey, the hero meets The Mentor. This wise traveller will provide guidance, advice, or training for the hero's journey. Sometimes The Mentor is a human being; sometimes it is a font of courage or wisdom that guides the hero from within.
Victoria is both. She is a seasoned traveler in the world of caring for those who are vulnerable. Somehow, she has managed to travel that world for seventeen years without being overwhelmed by the violence, chaos, and despair that she has chosen to walk through to save her Bright Kids. Thinking of this, I asked her how she manages, whether she ever needs to take care of herself. She said she's been eager to take two full weeks off, to go to the quiet of Lake Victoria's Sesse Islands, her family's homeland. She yearns to go out in nature and walk, alone, for miles, without having to stop every few minutes to greet someone as she does in town. She hasn't been able to manage the vacation recently. That's it – no drama, no visible heartbreak, no obvious conflicts. Just a very relatable, unmet need for a nice long vacation and time to reflect.
Victoria also represents a Mentor larger than herself. Though she didn't pepper her conversation with religious references, her devotion to God came through at important times as the heart of her work. When I asked why she chose to leave the government and do this work, she told us of how she had come up from poverty and left a marriage plagued by alcoholism, infidelity, and the fear of being infected with HIV. She decided not to send her children to her parents and find another man, but instead to raise them herself. Because her father had insisted on education, she had the chance to succeed. "God has blessed me beyond what I deserve," she said. "I wanted to do something for others." Although the children come from many different Christian denominations and Islam, she ensures that each child receives religious education and worship in his or her own faith. Mandy asked what she did about the unidentified babies that were occasionally left with her. "With those, I just decide," she said. "Maybe there is an auntie who can take good care of you and she is Anglican, so you will be Anglican." But on Sunday mornings, they all worship together as one family. "Doing this work makes me happy," she said more than once.
Looking Back: The Ordinary World and the Call to Adventure
In The Hero's Journey, the meeting with The Mentor is somewhere near the end of Act One. The Hero starts out relatively oblivious to the larger need he or she faces, but by this time has heard the call but resisted or refused it. After the meeting with The Mentor, refusal of the call is no longer possible. Act One will end with The Hero crossing the threshold between her ordinary world and the unknown.