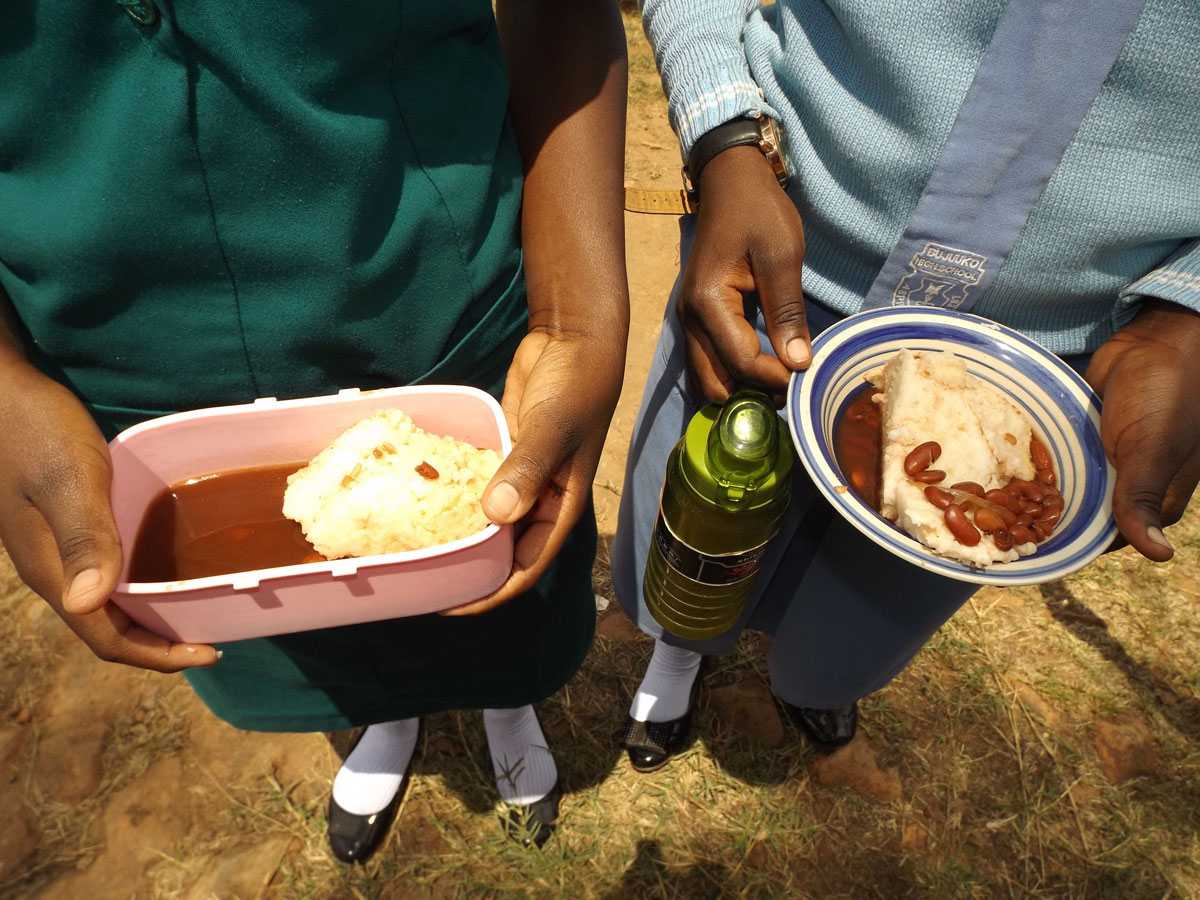 by Amanda Pillivant Walusimbi

Beans again?
The familiar refrain as he bursts through the door fresh off the school van and hungry as a hippo, "Mom! What's for dinner, I'm HUNGRY!!!"
"Hello Mommy, how are you? How was your day?" I gently correct as I hand him a cup of juice.
"Oh. Right." He breathes as he inhales the juice. "More juice please!"
This child is only five. He's only in KG3, equivalent to Kindergarten in the US. But he has a long day at school, since he leaves with his dad and brother at 6:30AM and it is now 5 p.m.
Food comes first, I remind him. Then water, but not too much before bed. He grumbles. "Then what's for dinner anyway?"
"Beans and Rice," I say.
"OH MAN NOT AGAIN!!!"
Growing up we ate nearly all our meals at home. My mom and dad are both great cooks and had us in the kitchen at a young age. I was cooking family meals by myself by the time I was 12. They taught us the importance of being able to cook for ourselves, both for practical and economic reasons. We also had a huge garden we ate from all summer and preserved food for winter. We raised chickens and hogs and goats for the freezer as well. It was the best when we sat down to a meal where everything on the table was from our small hobby farm.
I cooked for my friends in the dorm in college; we had an illegal hot plate in addition to our microwave. Once we lived off campus, dinner was at my apartment at least once a week and on the weekends. Sadhat had been told modern American women were terrible cooks – I almost lived up to the stereotype after burning our whole meal the first time I made dinner for him. He still brings it up, insisting it seriously made him reconsider his feelings for me. I blame nerves. We'll be married 10 years in June. We rarely eat out or order in. Sadhat declares loudly "why eat out when the food at home is this great!"("Because someone else does the dishes!" is the answer, in case you were wondering.)
I have been blessed to be a stay at home mom since Omar was born. I cook every day, sometimes multiple times. Omar was 3½ and Reihan 1½ by the time we left the U.S. We were eating an awesome variety of fruits and vegetables, and a wide variety of cuisine. I was so proud. But even though we eat even less processed food in Uganda than we did in the U.S, and all vegetables are fresh, we have significantly less variety in our meals than we did in the U.S.
There is not a lot of variety in the way food is prepared here, nor have there been many outside ethnic influences on the cooking. You've got your basic tomatoes, green peppers, onions, carrots, beets, cabbage, greens, and pumpkin. There are "exotic" things like zucchini, broccoli, and French green beans that can be found but are expensive because they aren't easy to grow. We have had two runs at gardens since we moved in to our house; both have been destroyed by animals and pests. I'll try again when the rains come in September.
Tropical fruits are plentiful, but if you aren't growing them yourself they can be quite costly. We have an avocado tree, two guava trees, and a jackfruit tree (a relative of durian but not nearly as sticky). Sadhat can gladly eat an entire jackfruit (the size of a large watermelon) and forgo dinner any day of the week.
There are a wide variety of starches, what Ugandans refer to as "food": cassava, matooke (which is a kind of cooking banana similar to plantain), yams, sweet potatoes, Irish (Idaho) potatoes, rice, and posho, which is polenta. Emphasis is put on which "food" (starch) you are going to serve, usually two at a time, and which sauce or "soup" goes with it. Traditional bread is also served, a heavy version of the Indian flatbread known as chapatti. Soup is made with chicken, beef, goat, fish, cow peas, red beans or a stew of groundnuts (ground peanuts). Greens or cabbage can be served on the side. On social occasions, meat can also be roasted or fried. Of course, this is all for those lucky enough to be able to afford it.
Though the Walusimbi clan is carnivorous, we only splurge on meat, chicken or fish once a month or so. We eat a largely veggie diet using red beans, groundnuts, and eggs for protein. Very nutritious, but not a lot of variety. Omar's frustration with "beans again!?!" echoes the thoughts in my head.
We are fortunate to be in the top 20% by income in Uganda. And we eat a lot of beans. The World Bank says that more than one third of the country lives on less than $1.90 per day. Most Ugandans do not eat three meals per day. This includes small children and pregnant women. The average Ugandan drinks a thin cornmeal gruel in the morning, and eats a meal in the afternoon or evening consisting of posho and some thin soup of beans or vegetables. If they can't afford any soup, they may add salt to the posho and brew a cup of tea.
Undernutrition is a significant health problem that contributes to 60 percent of deaths among children under five. Indicators for stunting (33 percent) and underweight (14 percent) are high, and only 10 percent of children 6 to 23 months of age consume a minimally acceptable diet, according to USAID reports. At best, children who are hungry have trouble paying attention and learning, effectively defeating an already tenuous situation.
Children at school often can't afford to buy school lunch (which is always a thin stew of beans and posho, at every school, every day) but will often pay for a cup porridge (the thin cornmeal gruel.) Anecdotally, when some primary schools began offering porridge for free, attendance went up anywhere from 50 to 75 percent because it affords children an extra "meal", or allows the family to thin their own porridge a little less.
Frighteningly, in the last six months, the price of posho has nearly doubled due to the drought in the region. So has the price of sugar. Prices for oil, flour, and other commodities are also on the rise, as well as vegetables, fruits and starches. Growing up, I remember hearing during famine and drought that the price of cooking oil was terrible or that oil was scarce and thinking, okay, don't use oil. But because cooking is so simple here, there is little room to change tactics. Oil must be used to lubricate pans used to cook over wood and charcoal fires, and it also adds important calories to already sparse diets.
Imagine barely being able to feed your family, and now the prices of your staples are rising, sometimes doubling. This is not just a matter of pinching pennies by cutting out the carryout pizza and Starbucks. This is a matter of life.
So, while the food may get a bit monotonous in the Walusimbi household, especially in comparison to our U.S. diets, we don't lack for food. Though I am also tired of beans and rice, I am grateful for what we can afford to eat. If my children are hungry, it is because they are playing games, not for lack of food on their plates. It is not just children on the other side of the world who are hungry now, it is people in my neighborhood.
So yes, Omar and Reihan, Sadhat and Mandy. We are having beans again tonight. Eat well, there are people going hungry tonight all over the world, some of them even in your neighborhood.
Students at Buujuko High School have planned a project to help improve the variety of their diet. Read all about it here to see how you can help. Your sacrifice can make a world of difference.
If you'd like to read the USAID report on Uganda that I sited above, check out https://www.feedthefuture.gov/country/uganda. And to read a rather lengthy but interesting report from the World Bank, click http://pubdocs.worldbank.org/en/381951474255092375/pdf/Uganda-Poverty-Assessment-Report-2016.pdf